Vélez Young, M. (2022). Nonprofit Work Is Killin' Me: Mitigating Chronic Stress and Vicarious Trauma in Social Service Organizations. Jefferson, NC: McFarland Press.
Nonprofit community-based social services teams deliver programs and resources to communities facing the greatest symptoms of inequality in this country. We are fortunate that front-line professionals triage high-risk situations and cultivate opportunities for generational healing. Yet their work has not been comprehensively explored in the science on workplace chronic stress and vicarious trauma (CSVT). Few know that among teams, 52% of individuals can face work-based chronic stress and 24% experience vicarious trauma. 
This book prompts transparent conversations about nonprofit community-based social services professionals, their important work, their suffering and the need to mitigate CSVT. In order to make a change, this book contextualizes why CSVT is left primarily unmitigated and unacknowledged in community-based organizations, stemming from racism and classism within the nonprofit sector.
The science covered in this book demonstrates that the very job duties that require highly adept and empathetic skills pull the professionals close to the stress and trauma of those who they serve. Social science research also directs attention to nonprofit sector culture and norms that perpetuate inequality internally, further creating an employment context of suffering. Shedding light on the factors that create unmitigated and unacknowledged CSVT allows for the implementation of both short-term and long-term solutions. 
Shelden, R. and Vélez Young, M. (2021). Our punitive society: Race, class, gender and punishment in America (2nd Ed.). Long Grove, IL: Waveland Press.
This reader-friendly exploration of the primary forces relevant to punishment—poverty and political powerlessness—highlights the necessity for humane alternatives to our current incarceration binge. This provocative overview looks at the business of punishment and at the historical patterns of control regarding slavery, the death penalty, women, the LGBTQ community, juveniles, and supervision.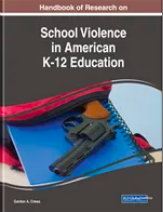 Vélez Young-Alfaro, M. (2018). School violence inside a youth prison school. In Gordon A. Crew (Ed.), School violence in American K-12 education. Hershey, Penn; IGI Global.
This chapter complicates common examples of "school violence" and sheds light on those types of school violence that have adult agents. 
Herron, J.D. and Vélez Young-Alfaro, M. (2018). Racialized perceptions of school violence: Suspensions of African-American students. In Gordon A. Crew (Ed.), School violence in American K-12 education. Hershey, Penn; IGI Global.
This chapter explores the role of school suspensions in punishing Black students for real and imagined behavioral issues. 
Academic Publications
Dr. Vélez Young has published numerous articles in academic publications, spanning a range of topics
pertaining to youth and young adults encompassed by the legal systems.